Our Team
The Tackle World Port Lincoln staff are always ready to help. They have the knowledge, customer service and fishing experience to find what you need…. meet our dedicated team.

Shane Hodgens – Owner
Shane has been a keen fisherman from a young age where every weekend was fishing the coastlines of South Australia. Shane started to venture into making custom built rods from a young age and has always built his own rods until recently where he started making them for other people.
The passion has continued and his extensive knowledge of saltwater fishing, understanding of all species of fish and experience of fishing on the west coast of South Australia brings Shane and Alicia's passion of opening a fishing store in Port Lincoln.
Shane's addictive passion for fishing and local area knowledge of the Eyre Peninsula is second to none and having fished for so many different species over the years gives him the knowledge to share with customers at Tackle World Port Lincoln.

Alicia Bolitho – Owner
Alicia has had a number of years experience in the administration field and her passion for ensuring businesses are run successfully and profitable is her strength. Alicia has also had many years working in customer service areas including training and education of staff to ensure customer service is the number one priority.
Alicia loves to get out on the water when she can with Blue Fin Tuna & Squid being her favourite species to catch. Little Charlie is Shane & Alicia's son and he is soon becoming a little angler himself with Dad at the helm trying to teach him!

Rick Elliott
Rick's love of land based fishing began in Darwin just before Cyclone Tracey. Stalking Barra, Jacks and Sooties from the river banks. Years later Rick moved to Port Lincoln and his fishing interests soon changed to southern Australian species fishing including chasing snapper off the rocks and Mulloway from the Eyre Peninsula's pristine beaches.
The latest addiction has been catching Bream on hard bodies and yellow fin whiting on poppers.
Rick's fishing knowledge is 2nd to none which show in his passion for all things fishing. Rick's land based fishing experience and rod repairs is a great addition to the Port Lincoln Tackle World Team.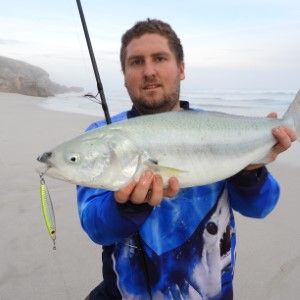 Jake McLeod
Jake's love of fishing started at a young age on the planks of Venus bay jetty, which helped him develop the fundamental skills, moving on from the bread and butter species Jake spent most of his teenage years searching for big Snapper, Kings and Mulloway from many South Australian locations. The last couple of years has seen him work on a couple charter boats spreading his passion of fishing to the wider community. These days it's all about big Sharks and custom built rods.
Dan Searle
Dan first started fishing with his Dad as a 5 year old catching salmon at Davenport Creek and whiting in an old tinny; single cylinder seagull outboard that didn't run properly, around Ceduna. Later moving to Port Lincoln and continued his keenness to fish often pinching a potato from his Mum and going squidding with a pin jag around the Trubridge berth or pinching a couple of pillies off the Tuna Boats to catch tommies and salmon trout; all with a handline.
In his teens he developed a passion for spearfishing, mostly targeting Strongys around Murry's Point. These days you will find him chasing King George whiting at the Sir Joseph Banks Group or bottom bouncing the reefs south of the passage for Nannygai, Samson and other big reef species.